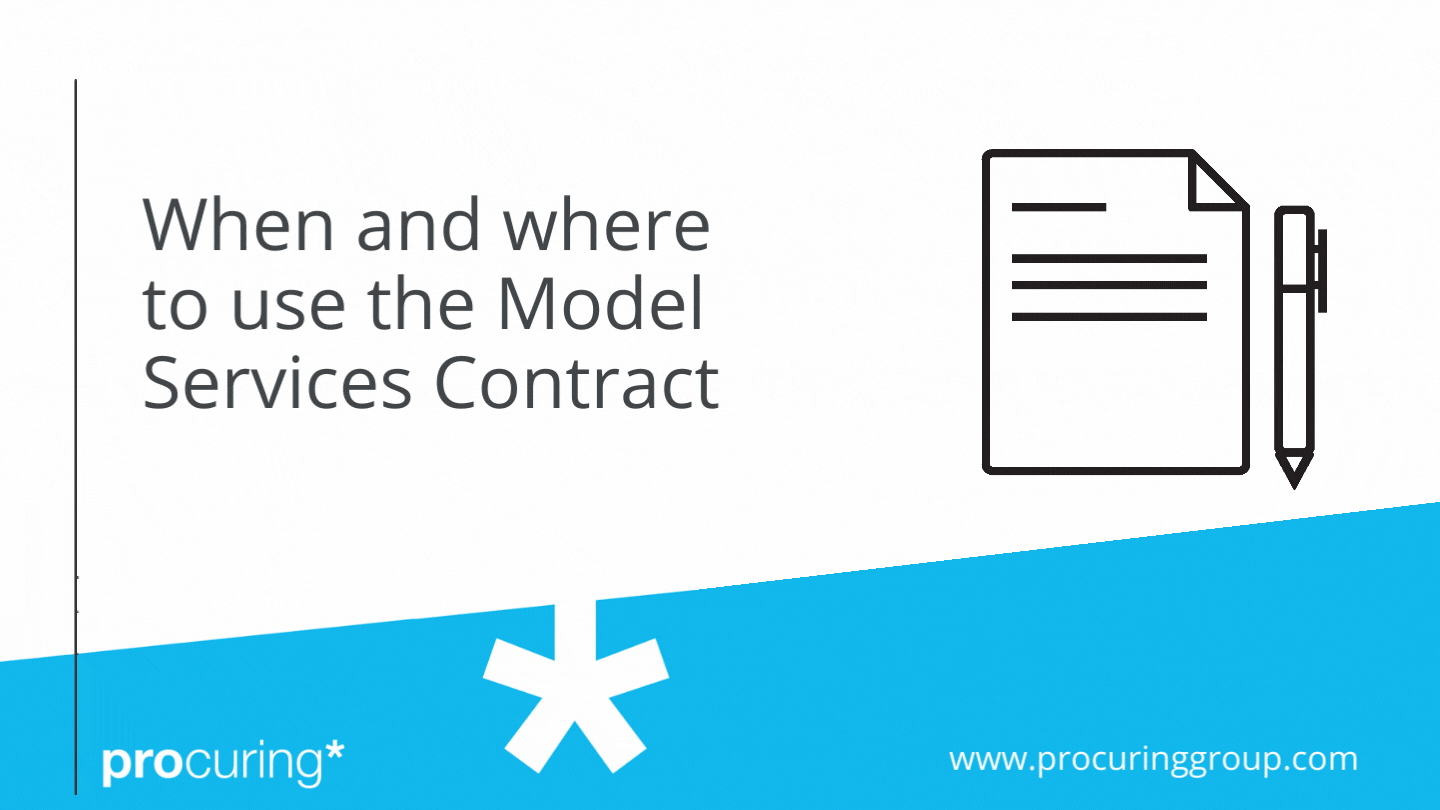 Procurement can be complex, especially in the public sector where, along with sourcing the right goods and services at the best possible price, other Government objectives must be met. The Cabinet Office helps by producing templates for contracts. These provide buyers with standardised terms and conditions that aid assurance and reduce administration, legal costs and negotiation time.
One of these templates is the Model Services Contract, designed for complex and/or high-value services contracts.
To benefit from the Model Services Contract, it's essential to know when and where to use it.
Choose the Model Services Contract when:
🗹 The supplier can carry out the obligations contained within it.
🗹 The contract has an average annual value of over £20 million.
🗹 Where failed delivery poses a high financial and reputational risk to the contracting authority (critical or public-facing requirements).
🗹 Where a framework does not exist, or risk makes a framework's use inappropriate.
🗹 Where services being supplied are highly complex, bespoke or other than business as usual.
🗹 Where there is a significant transfer of resources (people, assets, etc) from the contracting authority or an incumbent supplier to a new supplier.
🗹 Where the scope of services might include business transformation, operational services, outsourcing and technology development.
The Model Services Contract is not appropriate for:
🗷 Construction contracts.
🗷 Acquisition of commodities and goods (other than those ancillary to a service),
🗷 Where a suitable Crown Commercial Service framework exists.
🗷 Grants.
It's easy to see from these lists that decisions on when the Model Services Contract is appropriate may not be straightforward. Commercial specialists should tailor the documents if necessary, and specific or legal advice should be sought from experts.
Updates reflecting Government Objectives
The Model Services Contract was updated in 2020 to reflect Government priorities. It now includes: -
A requirement to publish Transparency KPIs
Environmental requirements
Social Value reporting
Prompt Payment reporting.
More information
The latest version of the Model Services Contract and its guidance documentation can be found by clicking Model services contract - GOV.UK (www.gov.uk).
The guidance gives context to the clauses, schedules and key areas for consideration. It incorporates the latest Government policy and changes in the law.
It is useful to study the guidance alongside the Model Services Contract when choosing how to proceed.
Contact Us
If you'd like to learn more about the Model Services Contract, please do not hesitate to call us.